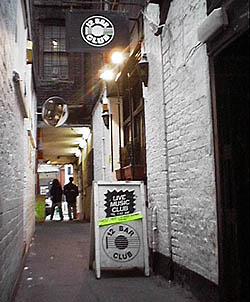 The 12 Bar Club is located on the famous Tin Pan Alley on the border of Soho and Camden Town. It is a little alley more avoided for the pungent air but in this alley is one of the best clubs in London.
Perhaps Andy, the booker extrodaniare, can be credited with the fabulous lineup of concerts we have broadcast and have available for you to enjoy. A special thanks goes to Carlos the on again, off again, owner of 12 Bar Club whose dream of great music has never strayed. A true gentleman and scholar.
In the next months we will be culling the best we can find for you to get on DVD and working to make the whole catalog available.
Keep checking back for your favorite bands release!