Sonny George Live At 12 Bar Club October 20, 2000
Sonny George
Live At 12 Bar Club
October 20, 2000 DVD for all you fans and just in time for the holidays!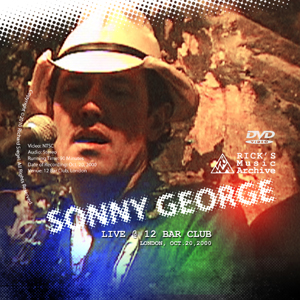 Sonny George (formerly of the Planet Rockers) Rockabilly musics top name is back again at the 12 Bar. Sonny's massive truckn' music will have you tapping your feet so you can't sit down. Watch the fans get up and dance to the music!
This DVD is available in the UK and USA and is part of a large collection of concerts from Sonny George live at the fabulous 12 Bar Club in Soho, London.
Sonny George plays live @ 12 Bar Club in Soho, London on October 20, 2000. The band for this gig consists of Lyn and Boz Boorer along with Jeff Mead. Sonny George plays guitar and sings his baritone voice taking charge while Boz Boorer adds to the mix and kicks out the rockabilly guitar licks we love so much. His wife Lyn plays stand up bass while Jeff Mead rounds the sound with the twin neck (on regular neck and one baritone) guitar (he also adds special steel string guitar (actually four steel guitars in mounted on a rack)).
Special guest on this concert is Slim, from Slim's Cyder Co., on Accordian and the Maverick's Horn Section. The special guests can be found on the last three songs of the second set that night.

There are two complete sets from that night on this DVD for a whole night of entertainment!
Set Lists
First Set
Second Set
Jackknife/Trouble Up The Road
Big Big Man
Who's Been Playing My Guitar?
Tennessee Woman
Big Iron
Dirty Dog Blues
Dixie Doll
Pick Up Yer Hammer
Gotta Rock
Ghost Man Trucker
Hillbilly Beat
One's All The Law
Troubled Times
Hillbilly Train
One More Drink
Love Star
Love Jam/Got The Bull By The Horns
Truckin' Country
When The Saints Go Marching In
(Slim on Accordion + the Maverick's Horn Section)
Knock Down Drag Out
(Slim on Accordion + the Maverick's Horn Section)
Come On
(Slim on Accordion + the Maverick's Horn Section