Imelda May Live At 12 Bar Club
Ricks Music Archives are proud to present
Imelda May (Clabby)
Live at The 12 Bar Club in fabulous Soho London, England. This concert is from October 30, 1999 and appears to be the earliest recording and broadcast of this amazing artist.
The ultra fabulous Imelda May shows her outstanding voice from a live broadcast at OnlineTV.com. The show features Imelda (Cla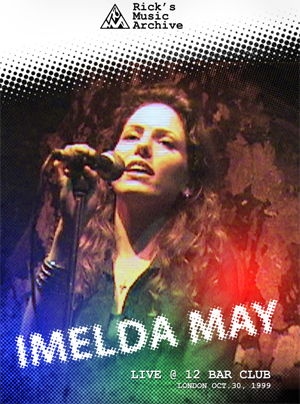 bby at the time) May on vocals, Brian Nevill on Drums, Mick Wigfall on bass, and Malcolm Chapman (an amazing player) on guitar.
Imelda May has shared the stage with Alison Moyet, Dionne Warwick, Bryan Ferry, Anastasia, The Supremes, Sister Sledge, Scissor Sisters, The Dubliners, Madeleine Peyroux, Matt Bianco, Jools Holland, Jeff Beck and Elton John. Imelda has recently played The Royal Albert Hall.
This incredible concert shows the artist as she started to rise to the top and flower into her artistry. Her soaring vocals tear at the heart and rip into the soul with an assortment of original tunes and cover songs. Imelda was on her way to superstardom. This release is a treasure for any fan as one of the earliest recorded and live broadcast videos of this world class artist. Broadcast live worldwide on October 30, 1999 and not seen since 2003.
Or buy Right here and now! Read more and see the clip below!
Video: NTSC
Audio: Stereo
Running Time: 35 Minutes
Date of Recording: October 30, 1999
Venue: 12 Bar Club, London