Cheyne Pride Live at 12 Bar Club DVD
Cheyne Pride Live at 12 Bar Club DVD
We are proud to present Cheyne Pride live from 12 Bar Club in Soho, London Sept. 21, 2001. This DVD has two extra songs included as Extras that were from a July 29, 2001 performance right after the break up of The Nott Sisters.
Here you have a great musical moment from the OnlineTV.com archives as Cheyne Pride proves herself the consummate soul singer on the 12 Bar stage. Cheyne Pride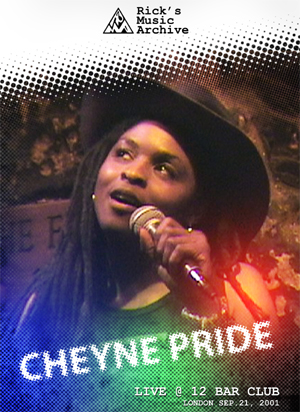 played previously with The Nott Sisters, a duo consisting of Cheyne Pride and Janis Haves, and it was only weeks after the breakup of that duo that the songs featured on the Extras was recorded.
Cheyne Pride's voice is strong and true as it takes her tunes to the stage at 12 Bar. The night was young with electricity in the air. While the set started a bit weak the pace picked up on this short set and it only took minutes for Cheyne to take off into the stratosphere with powerful artistry weaving the sounds and lyrics into a diaphanous carpet laid before her fans.

The recordings have Cheyne accompanied by "Bubba" Jeff Mead on guitar. Jeff Mead is the Rockabilly guitar and slide steel guitar master playing who also plays with the Sonny George UK touring band and others on the Rockabilly circuit in the UK.
Video: NTSC
Audio: Stereo
Run Time 47 Minutes
Venue: 12 Bar Club