Sonny George Live At 12 Bar Club September 20, 2000
Sonny George Live At 12 Bar Club
September 20, 2000 on DVD
Just in time for Christmas!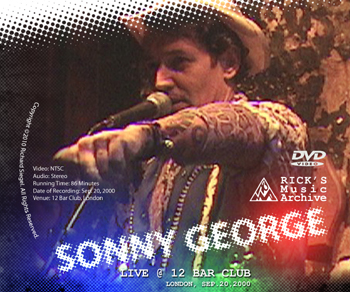 Sonny George (formerly of the Planet Rockers) is one of the top names in Hillbilly, Rockabilly, and truckn' music both in the USA and in the UK. Many US fans know little of the massive tours and fans Sonny has in the UK. Many of these same fans have never had the chance to hear the music of Sonny George from his UK tours.
This DVD is available in the UK and USA and is part of a large collection of concerts from Sonny George live at the fabulous 12 Bar Club in Soho, London.
Sonny George plays live @ 12 Bar Club in Soho, London on September 20, 2000. The band for this gig consists of Lyn and Boz Boorer along with Jeff Mead. Lyn plays stand up bass while husband Boz Boorer wails on as lead guitar. Jeff Mead plays the twin nect (on regular neck and one baritone) guitar and also a special steel string guitar (actually four steel guitars in mounted on a rack).

Special guest on this concert is Sean MacGoloin who plays the fiddle on a couple tunes and the harmonica on some others at the begining of the second set.
There are two complete sets on this DVD for a whole night of entertainment!
Set Lists
First Set
Second Set
Jacknife / Trouble Up The Road
Big Big Man
Who's Been Playing My Guitar?
Tennessee Woman
Big Iron
Dirty Dog Blues
Dixie Doll
Hillbilly Wolfman
One's All The Law
Gotta Rock
Hillbilly Beat
(Sean Macgloin on fiddle)
Hillbilly Train
(Sean Macgloin on harp)
Truckin' Country
(Sean Macgloin on fiddle)
Folsom Prison Blues
(Sean Macgloin on fiddle)
Ghost Man Trucker
Rockabilly Guy
Caffeine, Nicotine, Alchohol
Walk On, Son
Come On
Knock Down Drag Out
Love Jam / I Love Women
This is an impressive DVD of a most impressive Rockabilly artist!
Buy the Sonny George Live UK DVD right here!
DVD Details:
Video: NTSC
Audio: Stereo
Running Time: 86 Minutes
Venue: 12 Bar Club London
Date of Recording: September 20, 2000