David Lowery and Johnny Hickman of Cracker Live
David Lowery and Johnny Hickman
Special Guests Brandy Wood and Laura Pergolizzi

Ricks Music Archives is proud to present Dave Lowery live from the Acme Underground and part of OnlineTV.com Internet broadcast for MusicTV.com on CMJ Music Marathon week in New York City on Oct 20, 2000.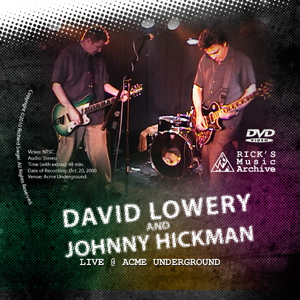 This was a very special concert at Under Acme during CMJ Music Marathon in New York City. The night was electric with some of the top stars of the day. Cracker's David Lowery with long time compatriot Johnny Hickman played incredible sets with quick cameos as Brandy Wood came on stage to fill in on some songs chorus'. David called L.P (Laura Pergolizzi of LP Rock) to the stage to showcasing her amazing voice; the crowd was electrified.
OnlineTV.com was taping in the clubs, as always, and captured the live simulcast for the Internet broadcast on MusicTV.com. These original broadcasts have not been seen since 2003 and were stored in Rick Siegel's Music Archives until now.

Special Extras on DVD
We have added a small special video extra on this DVD for you. The extra was a small jam session with Johnny Hickman on mandolin and Thom Jack (of the band The Jax) played after the gig down in the sub-sub level of Under Acme. My experience with Dave Lowery and Johhny Hickman was amazing. They are warm, kind and talented; their stage presence all encompassing and their openness awe inspiring. I am proud to have been there on the day and to have captured it for posterity.
Captured on Sony Digital camera by cameraman Richard Siegel for OnlineTV.com.
Video: NTSC
Audio:Stereo
Time (with extras): 48 min
Date of Recording: Oct. 20, 2000

OnlineTV was the first website to offer live concerts from the USA and Europe on a daily basis with over 30 concerts a week through its affiliated site MusicTV. VideoSeconds is the preeminent DVD and CD outlet for eclectic and rare music, movies and other paraphernalia.

WARNING
THIS CONCERT HAS SIGNED CONTRACTS FROM THE ARTISTS. MANY ARTISTS HAVE NO MEMORY AT ALL AND IT IS SEEMS SOMEONE OUT THERE IS SPREADING GARBAGE ABOUT THIS