Mary Lou Lord Live @ Acme Underground
Mary Lou Lord Live at Acme
The stage was set, the talent was booked and the only thing missing was the artist to play. Mary Lou Lord, busker extraordinaire was supposed to be onstage but was missing. So it was for OnlineTV.com broadcast of the CMJ Music Marathon back in 2000.
W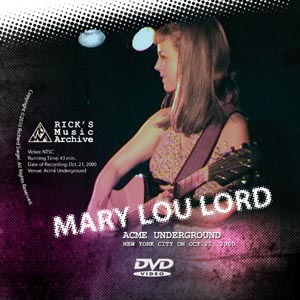 hile Mary Lou Lord appeared to be late, she was actually working the NYC subway system for all it was worth busking in the West 4th Street station. She was making so much money she wanted to bow out of her appearance at the CMJ festival! But reason prevailed as well as the many fans waiting at the Acme Underground for one of the most talented singer songwriters of the day.
In later years Mary Lou started to suffer from a rare vocal cord affliction called spasmodic dysphonia and her singing and busking days became history. In that vein this video recording of her work, as a prime solo artist is precious history.
RicksMusicArchives.com is proud to present this historic concert on DVD for your pleasure and makes it available at several venues including VideoSeconds.

Whether you are a long time fan of Mary Lou Lord or just looking for great music you cant go wrong with this amazing DVD. Recorded live on the day using Sony Digital video cameras with stereo audio and a runtime of 43 minutes.
Buy the Mary Lou Lord DVD Here!

OnlineTV was the first website to offer live concerts from the USA and Europe on a daily basis with over 30 concerts a week through its affiliated site MusicTV. VideoSeconds is the preeminent DVD and CD outlet for eclectic and rare music, movies and other paraphernalia.