UK Collector Series – Keane Live First Recorded Performance
Rick's Music Archives are proud to present the UK Collector Series with this fabulous Keane concert from December 18, 1999.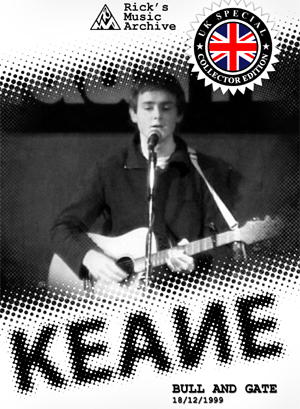 This is the first known Keane live performance recorded, even the band has forgot these gigs! On a cold December night the band came to the famous Bull and Gate club in Kentishtown to perform and broadcast their gig live over the Internet through the OnlineTV broadcast networks. This is a remastered concert manufactured to the highest quality available.
Part of another DVD we offer, with three concerts on it, this is a totally remastered DVD. Quality is key as well as the ability for fans to pick the concerts they want. Each one of the important concerts from those gigs was remastered so that the final DVD compression did not make the product just good, but excellent. If you are a fan of Keane than this DVD is the ultimate of collectables. Limited in edition and soley available for residents of the UK and the USA you can be one of the few to get this amazing performance.

See the band as they were when people were first introduced to the sound. This is Dominic Scott's Keane band and this is the first live performance recorded for broadcast.
Play List
1. Pot of Gold
2. All I Was
3. Morsel
4. Closer Now
5. Rubbernecking
6. Call Me What You Like
7. More Matey