UK Collector Series – Keane Farewell to Dominic Scott Live Aug 9, 2001
Rick's Music Archives are proud to present the UK Collector Series with this fabulous Keane concert from August 9, 2001.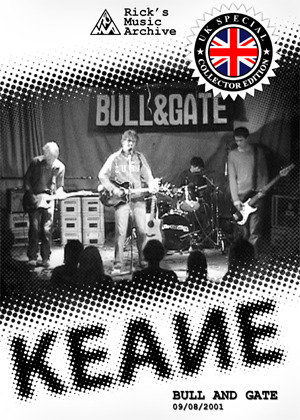 This is the farewell performance of Dominic Scott as he left the Keane band. The current Keane band has forgot these gigs exist! Near the end of the summer of 2001 the band came to the famous Bull and Gate club in Kentishtown to perform and broadcast this amazing last gig live with Dominic Scott over the Internet through the OnlineTV broadcast networks. This is a remastered concert manufactured to the highest quality available.
Part of another DVD we offer, with three concerts on it, this is a totally remastered DVD. Quality is key as well as the ability for fans to pick the concerts they want at a very reasonable price. Each one of the important concerts from those gigs was remastered so that the final DVD compression did not make the product just good, but excellent. If you are a fan of Keane than this DVD is the ultimate of collectables. Limited in edition and soley available for residents of the UK and the USA you can be one of the few to get this amazing performance.
See the band as a four piece guitar band for the last time as they bid a fond farewell to Dominic Scott and head off to the recording studios as a new Keane band. This is Dominic Scott's Keane band and this is the last live performance recorded for broadcast of the band he founded.
Play List
1. Call Me What You Like
2. Pot of Gold
3. To the End of the Earth
4. Wolf at the Door
5. Bedshaped
6. She Has No Time
7. This Is The Last Time