The Libertines Pete Doherty, Carl Barât and John Hassall Live @ 12 Bar
The Libertines Pete Doherty, Carl Barât, John Hassall Live
The Libertines play live staring Pete Doherty, Carl Barât and John Hassall. This recording is from a live performance at the 12 Bar Club in London. This concert is probably the earliest and only video available to the public from the first incarnation of this band.
This gig played at the 12 Bar Club in London was among the first the band played and features John Hassall on bass. At this time th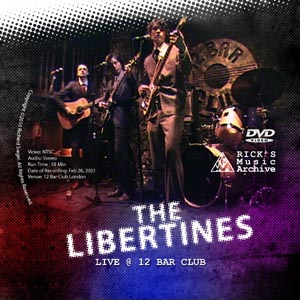 e Libertines were still juggling the band line up however the songwriting duo of Pete Doherty and Carl Barat was firmly established.
Using the 12 Bar as their jumping board into live performance you can take a seat in the intimate club and enjoy this band without the need to suffer a huge crowd. The close interplay between Doherty and Barat is apparent and the band was not suffering the frictions later caused by some of the bands personal indulgences.

This concert is part of the lost concerts series from OnlineTV's archives, which have been stored over the last decade in a warehouse in New York City waiting the day Rick Siegel would dig them out and start releasing them to the public.
Shot live at their concert @ 12 Bar Club
A masterpiece for any collector
Video: NTSC
Audio: Stereo
DVD Run Time: 58 Min
Date of Recording: Feb. 26, 2001
Venue 12 Bar Club
Camera: Paul Gilbert
The video taster from YouTube clip is a low-resolution tease of the complete DVD:

OnlineTV was the first website to offer live concerts from the USA and Europe on a daily basis with over 30 concerts a week through its affiliated site MusicTV. VideoSeconds is the preeminent DVD and CD outlet for eclectic and rare music, movies and other paraphernalia.