Har Mar Superstar Live @ Acme during CMJ Music Marathon
RicksMusicArchives.com is proud to present:
Har Mar Superstar
(AKA Sean Tillman of Marshall, Minnesota) as he hit the stage at Under Acme during the CMJ Music Marathon in 2000. An incredible eclectic and offbeat performer from one of the coldest states heating up the performances at Acme.
Har Mar Superstar is a mix of R&B with pop fun and you are invited to see this amazing concert from the vaults of Rick Siegel. While Har Mar's R&B roots are strong the hip-hop rap nature of these recordings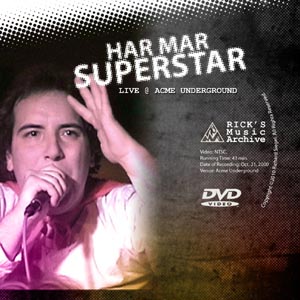 show the initial raw ideas forming in the artists shows. This recording captures some of the first days he was touring the USA. Famously appearing in his choir robe and accompanied by his Mini disk player kicking out the beats while stripping down throughout the show as the heat rose.
Har Mar Superstar has made a huge following in the USA and even more in the UK where he lets it all shine. His ingenious lyrics, wild demeanor, and outrageous stage shows have led him up the stairs to become a real superstar. Born to rock!
Buy the Har Mar Superstar DVD Here!
Har Mar Superstar Live @ Acme Underground
Video: NTSC
Time: 23 Min
Date of Recording: Oct 21, 2000

OnlineTV was the first website to offer live concerts from the USA and Europe on a daily basis with over 30 concerts a week through its affiliated site MusicTV. VideoSeconds is the preeminent DVD and CD outlet for eclectic and rare music, movies and other paraphernalia.